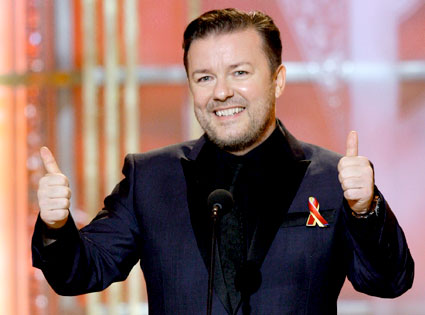 Paul Drinkwater/NBC Universal, Inc via Getty Images
On a rainy night in Hollywood, the stars and their umbrella-holding minions braved the precipitation, which threatened hairdos, dresses and, jeez, the entire evening of entertainment kudos. But the 67th Golden Globes got going anyway.
Here's what was good...and not so good:
Best Cold Opening:
Ricky Gervais
started off a little slow with his by-now-regular tweaking of
Steve Carell
, but then he moved on to a new round of targets, the assembled stars, and the show started rolling. Here were some of our favorite opening quips:
"On a serious note, just looking at all the faces here reminds me of the great work that's been done this year, by cosmetic surgeons. You all look great."
"And I've had a penis reduction. Just got the one now. That's enough. And it is very tiny, but so are my hands, so when I'm holding it, it looks pretty big. And let's face it, I usually am holding it. I wish I was doing that now instead of this, to be honest."
"It is an honor to be here in a room full of what I consider to be the most important people on the planet. Actors, they're just better than ordinary people, aren't they?"
Best Change of Pace:
Following Gervais is never easy, but
Mo'Nique
's passionate, intense acceptance speech immediately kicked the trophy-giving into high gear.
Best Feel-Good Moment:
On a night when self-importance can run rampant,
Up in the Air
's
Jason Reitman
was refreshingly humble with a kind word for everyone, including his cast, his wife and his parents, and kind of made us love him for being such a mensch.
Fakest Feel-Good Moment:
Gervais took a moment to get real: "The serious bit now. The Golden Globes is shown all over the world. It is oblivious to color or creed. It doesn't just celebrate talent, it celebrates difference. It crushes prejudice and stereotype. One stereotype I hate is that all Irishmen are just drunk, sweary hell-raisers. Please welcome
Colin Farrell
."
Best Save:
After seeming to totally blank on her speech,
Meryl Streep
pulled it together for a touching speech about her mother. "She had no patience for gloom and doom. I'm not like that," said Streep, choking up as she remembered how her mother would tell her to be grateful for her success and use it to help others. "I am really grateful. I am really grateful."
Best or Worst: Drew Barrymore
's breathless, rambling speech—did you love it or hate it?
Most Unexpected Dirty Joker:
Enlivening what was otherwise a totally worthwhile if unsurprising celebration of the career of director
Martin Scorsese
,
Robert De Niro
launched into an incredibly creeptastic impression of Scorsese getting aroused by a 35mm black-and-white film canister. Even after all those Focker films, it seems Travis Bickle is still lurking around inside there.
Best Introduction:
Just when you thought Gervais had abandoned the idea of embarrassing the assembled, he delivered this intro while swilling a pint of beer: "I like a drink as much as the next man, unless the next man is
Mel Gibson
."
Nice
.
Most in Touch With the Audience:
Avatar
director
James Cameron
has directed the two biggest moneymakers of all time, but he understood what the crowd was thinking when he said he'd wrap things up quickly because he had to "pee something fierce." Two hours plus in, he wasn't the only one.
Best Flashback:
Despite the fact that he was presenting the animation award,
Paul McCartney
managed to work in a delightfully inappropriate drug joke. And if you were high, the fact that
Up
won probably blew your mind.
Best Speech: Robert Downey Jr.
announcing, "I don't have anybody to thank," before enumerating all the people he would not be thanking. "These guys, they needed
me
!
Avatar
was gonna take us to the cleaners. If they didn't have me they didn't have a shot, buddy!" He should get an award just for that.
Second-Best Speech:
Though he slobbered over presenter
Kate Winslet
enough to nearly wrest the Inappropriate Award-Winner Kiss award away from
Adrien Brody
,
Jeff Bridges
pulled it together for a fine speech celebrating family and show business and, most winningly, his stand-in.
Worst Promotional Opportunity:
NBC was hosting the party, but it bore the brunt of an awful lot of jokes about scripted and/or late-night programming. Is all of Hollywood on
Team CoCo
?
Family-Friendly Entertainment:
From the speeches of Bridges, Streep and plenty of others, the night seemed to be a celebration of family. As themes go, that's a whole lot better than thanking your agent.
Who else did you love or hate or just wonder about during the show?
SOURCE