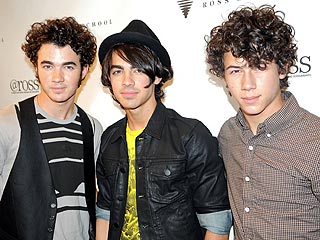 The Jonas Brothers scored their second No. 1 album in less than a year on the U.S. pop album chart Wednesday, but first-week sales were less than half of those for their previous studio effort.
"Lines, Vines and Trying Times" sold 247,000 copies during the week ended June 21, according to Nielsen SoundScan. The trio's last studio effort, "A Little Bit Longer," bulldozed its way to a No. 1 debut last August, when it started with 525,000 at the height of Jonas Mania.
Thus far, the family act has released four studio albums in less than three years. The group's debut "It's About Time" debuted and peaked at No. 91 on the Billboard 200 in August 2006. A self-titled effort arrived exactly a year later, peaking at No. 5. Then, another year later, "A Little Bit Longer" entered at No. 1. (For good measure, the JoBros also issued the soundtrack to its "3D Concert Experience" film earlier this year. It reached No. 3.)
Last week's No. 1, the Black Eyed Peas' "The E.N.D.," slipped to No. 2 with 148,000 copies. The Dave Matthews Band's "Big Whiskey and the GrooGrux King" followed at No. 3 with 88,000, while Eminem's "Relapse" was at No. 4 with 72,000.
Incubus' greatest hits collection "Monuments and Melodies" arrived at No. 5 with 70,000. The album was released in its deluxe form first, before the standard version comes out on July 21. The deluxe edition contains 11 bonus tracks on top of the album's standard 15 tracks. The sales of both versions of the album will ultimately be merged on the charts.
Lady GaGa's "The Fame" held at No. 6 with 47,000, while Chickenfoot's self-titled album fell three to No. 7 with 43,000. The "Hannah Montana" movie soundtrack slipped one rung to No. 8 with 42,000, and Green Day's "21st Century Breakdown" was also down one, to No. 9, with 40,000. Taylor Swift's "Fearless" rose one to No. 10 with 38,000.
Overall album sales totaled 6.76 million units, up 6.5 percent from the previous week, but down 18.5% from the same sales week of 2008. Year-to-date album sales stand at 168.3 million, down 14.6 percent compared to the same total at this point last year.
http://www.reuters.com/article/musicNews/idUSTRE55N5LB20090624