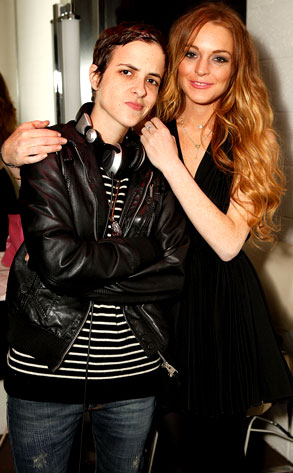 Lindsay Lohan and Samantha Ronson are like any other couple: Their domestic squabbles are mainly over money.

According to friends of the two, Lindsay's overspending is out of control, and it's putting additional strain on the ladies' already volatile relationship.

"Lindsay is spending like crazy!" a friend of the actress tells us. "She's living on credit right now. She has no cash. The problem is, the money being spent is mostly Sam's because Lindsay doesn't really have any of her own at the moment; she's really taken on the 'man' role in their romance. Sam really thinks Lindsay needs to learn how to become a recessionista and manage her money better."

A second pal agrees. "Lindsay's money situation has never been great, but it's only gotten worse over the last month. For every dollar she makes, she spends double. Her personal appearance fees are literally the only thing keeping her afloat. But here's the rub: Because of her explosive relationship with Sam, she's unable to get the type of cash she's used to. The negative press and constant appearance cancellations are hurting her pocketbook."

Recent extravagant purchases the starlet has made include a $30K Rolex watch and a new Maserati, a glam ride which usually costs upward of $100K.

At least Lohan – who hasn't had a movie role since her 2007 flop "I Know Who Killed Me" – is aware of her poor economic situation.

"It's scary when you realize, 'Oh my God, I'm not working. And I have a house to pay for now,' " Lohan says in April's Nylon.

But to her credit, the actress is actively seeking employment. She tells the magazine that she's in discussions with pal Sean Penn for a future project. Other career options include a proposed foray into the catwalk club, as Lindsay has said she would love to work for IMG Models.

"I know nothing of her spending," a rep for Lohan says, "But she has her own money."

If Lindsay starts strutting her stuff on the runway, then perhaps she can start wearing the pants in her relationship with Sam. Unless, of course, she starts modeling for Victoria's Secret.
http://www.nydailynews.com/gossip/2009/03/23/2009-03-23_lindsay_lohans_running_fast_on_samantha_.html