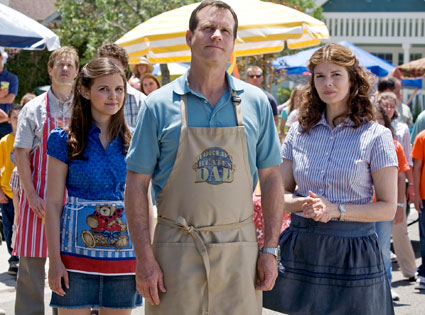 Did the creators of HBO's "Big Love" cross a line in Sunday's episode by portraying a ritual that normally happens behind the sealed doors of a Mormon temple? Some members of The Church of Jesus Christ of Latter-day Saints say there are corners of the religious landscape where Hollywood is just not welcome.
I checked in with polygamist fans of the show who I've written about in the past—fundamentalist Mormons who practice the kind of plural marriage portrayed in "Big Love."
Anne Wilde, a plural wife for 33 years until the death of her husband, also voiced her objections to Sunday's episode.
"It seems that many religions have sacred elements that are not for public view--and certainly the LDS temple ceremony is one of them," said Wilde, co-founder of Principle Voices, a plural marriage advocacy group. "It will probably be offensive to both mainstream LDS members as well as Fundamentalist Mormons, most of whom have no access to the temple, but nevertheless support the sacred and private nature of its ceremonies."
Sunday's episode shows Barb (played by Jeanne Tripplehorn) who is not a church member in good standing but finds a way into a temple anyhow.
"She has been conflicted about her relationship to the Church for three seasons now, but the thought of being cast into 'outer darkness' as excommunication promises is something deeply upsetting to her," Mark V. Olsen and Will Scheffer, the show's creators and executive producers, said in an e-mail. "She was brought up in this Church and still loves it. If the Church would allow her to be a member she would do so without hesitation."
Wilde can relate to much of the show, which often illustrates how plural wives usually get along.
"One thing I have especially liked about the show so far is the family solidarity; even though the three wives have disagreements, they usually support each other in the long run," she said. "I also like the fact that the Hendrickson family lives in a relatively upscale community, is not in an isolated area, is able to support themselves … dispelling the stereotypes that all polygamous wives are controlled and uneducated, dress in different styles, depend on government assistance."
But in Wilde's opinion, this isn't the first time "Big Love" pushed the envelope. She also questions their accuracy at times. In one plot line, for example, main character Bill Hendrickson surreptitiously pursued a prospective fourth wife.
"It is not acceptable, for most Fundamentalist Mormons, if the husband seriously 'courts' a future wife without the knowledge of the existing wives," Wilde said. "And the fact that he 'slept' with her before the marriage sealing was performed is definitely immoral in our estimation."
HBO apologized to those who might be offended by the fictional ceremony. Olsen and Scheffer said they went to great lengths to portray the ceremony accurately.
"In approaching the dramatization of the endowment ceremony, we knew we had a responsibility to be completely accurate and to show the ceremony in the proper context and with respect," Olsen and Scheffer said in a statement. "In order to assure the accuracy of the ceremony, it was thoroughly vetted by an adviser who is familiar with temple practices and rituals. This consultant was actually on the set throughout the filming of the scenes to make sure every detail was correct."
According to Olsen and Scheffer, that consultant was born into the church and taught temple ritual and practices. The individual resigned from the church eight years ago.
Sunday's episode has prompted some mainstream Mormons to boycott and cancel subscriptions to companies owned by HBO's parent company Time Warner. But The Church of Jesus Christ of Latter-day Saints has not adopted an official position.
"Certainly Church members are offended when their most sacred practices are misrepresented or presented without context or understanding," the church said in a statement. "The Church of Jesus Christ of Latter-day Saints as an institution does not call for boycotts. Such a step would simply generate the kind of controversy that the media loves and in the end would increase audiences for the series."
But Wilde hopes more people do watch the show and realize that all Americans (including polygamists) should be granted equal civil rights. She said plural marriage between consenting adults should be a constitutional guarantee.
"By learning more about this lifestyle, they hopefully can see that a polygamous family is very similar to a monogamous family in many ways," Wilde said. "Except there are usually more members of the family, thus more people to love and more people to love you."
What do you think? Should Hollywood avoid the secret and sacred?
http://newsblogs.chicagotribune.com/religion_theseeker/2009/03/big-love-in-big-trouble-with-mormons.html