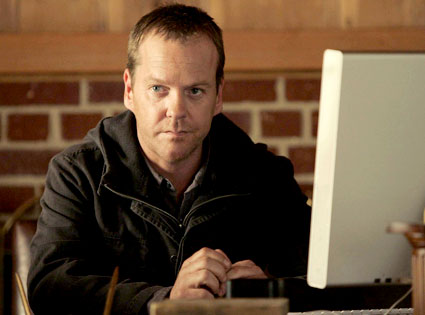 Kiefer Sutherland will return as super-spy Jack Bauer for an eighth season of the hit FOX drama "24," but Jack's alter ego says the show will continue until the writers run out of plots.
Sutherland, 42, said he's committed to the drama - which starts shooting Season 8 in May - that has helped revive his career.
"If I was going to liken '24' to a girlfriend, '24' has been really good to me. And I need to be really good back," Kiefer said.

And despite his interest in other projects, he doesn't want to seem ungrateful for the opportunity that got him back in the saddle.
"There are plays I want to do. There are so many different things I would like to do, but I was so fortunate to be part of something like '24' that my focus is still on that right now," he said.
Although he's willing to go as far as he needs to, Sutherland said the show's future also lies with how well the writers can continue to shape the show's story.
"The real pressure is placed on the writers. It's a real question about how much they feel they can give and what they can do," he said.
However, if there is a demise of Jack Bauer, he's not worried that he will be typecast as a tough-on-terror secret agent.
"I will do the work I want to do and people can accept it or not," he said.
http://news.bostonherald.com/track/inside_track/view/2009_03_25_Kiefer_Sutherland_not_ready_to_Bauer_out_of_%E2%80%9824%E2%80%99/srvc=home&position=also