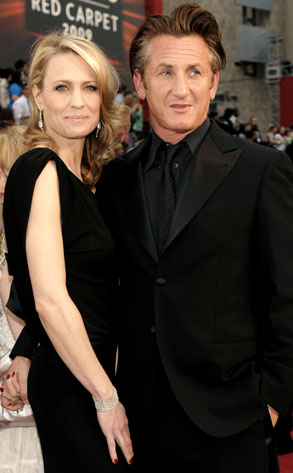 Actor Sean Penn filed for "legal separation" from his wife Robin Wright Penn after 13 years of marriage Friday.
The couple are no stranger to break ups and make ups. Penn filed for divorce back in 2007, according to a report in Us magazine, but the petition was later dismissed. Just 3 days later, Wright Penn, 43, filed for divorce.
But in April of last year, the couple requested that authorities dismiss their petition.
It seemed the two Hollywood heavyweights were intent upon reconciling, even attending the Oscars together in February, where Penn took home his second Academy Award for his performance in the film "Milk."
But Penn raised eyebrows when he did not thank his wife and the mother of his two children in his acceptance speech. He later told Oprah Winfrey that he wanted to focus his speech only on the professional team, saying if he thanked her, he would have to thank his mother and children as well.
http://www.foxnews.com/story/0,2933,518384,00.html