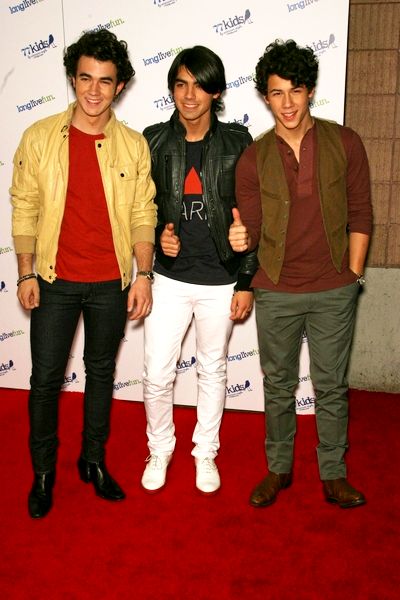 The Jonas Brothers spent their Valentine's Day by trying their hands at comedy and giving a debut performance on "Saturday Night Live."
The teen pop group performed the single "Tonight" and appeared in a skit with "30 Rock" star Alec Baldwin. In the sketch, Baldwin pretended to be the Jonas Brothers' long-lost oldest sibling Gary -- until the group members vote to kick him out of the band.
Baldwin plays the part as an arrogant wannabe band member, declaring: "I'll decide who does what around here. I'm the oldest Jonas, by two years." He also suggests the group should change its name to "The Donut Brothers" and give fans free donuts. Nick responds with: "I don't think we should do that Gary."
Baldwin goes on to call Nick Jonas "weird, creepy and smelly," and insists that front man Joe Jonas is "not one of us." "He has straight hair and his eyebrows look like they were drawn in with a Sharpie (pen)."
When accused by the Jonas Brothers of breaking the band's rules by drinking, smoking and doing drugs, Baldwin says: "I thought those rules were optional." After being officially voted out, Baldwin says: "If I'm out of the band, I guess you want my ring back," referring to the purity rings worn by the Jonas Brothers as a pledge to abstain from premarital sex.
Feb. 16, 2009, 2:30 PM EST
Entertainment Tonight.